Reality TV Star, Ifu Ennada advises ladies to stop giving men s** as a valentine gift.
Taking to her Insta story, the former BBNaija housemate advised ladies to save up money to buy their men gifts.
She further stresses that it is not a big deal if ladies also get something for their man.
Ifu further urges ladies to take the game-high and get their man gifts that are exclusive of boxers and singlets.
Capping her advice session, she said no lady should run into debt just to surprise their man as they would only come for her when it's time to pay.
Read her post below;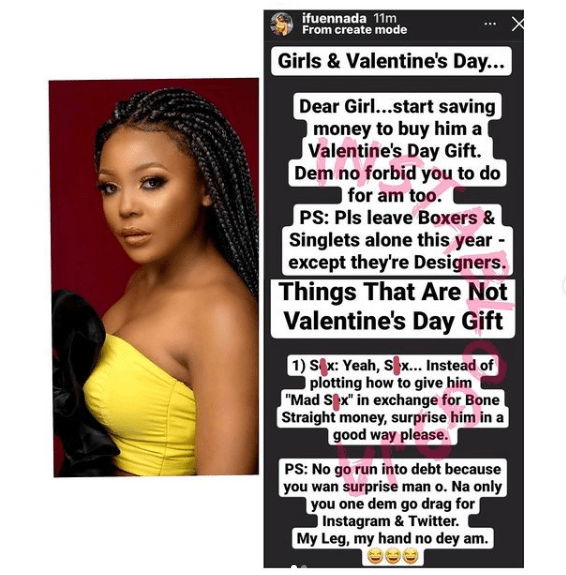 Valentine is a special day where lovers share and gifts each other gifts and lovely items in celebration of their love and for all the beautiful moments they've had and shared.
Don't forget to like our page on Facebook and Follow us on Twitter for more and latest updates.
Also note that this post does not reflect the views of Nairalovers. If you feel this post violated some policies, do not hesitate to Contact us with evidence and it will be taken down. See our Declaimer for more.